70th Battalion
By Les Townsend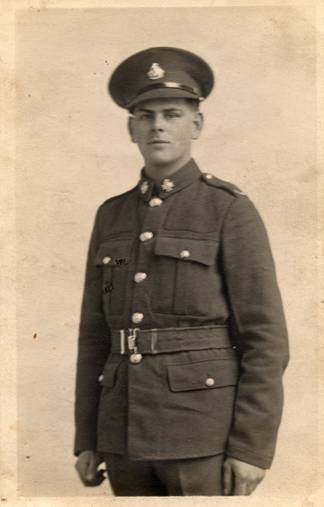 The 70th Battalion was formed at Duxhurst Farm which lies between Reigate and the present Gatwick Airport Road (it may be Duckhurst). I was 16 at the time and there were recruits from all parts of Sussex including London. We had no rifles to begin with and when on Guard duty had only 5 rounds of ammunition. We had to dig latrines and provide outside washing facilities and, if we were lucky, transported to Redhill community baths once a week for a bath. Our duties were mainly foot drill and Physical training and the occasional patrolling of Redhill airfield. I saw my first Beaufighter, in wraps, there.
There was quite a lot of absence from duty, mainly from Londoners, who were given detention when returning to the camp. Several bombs were dropped in the area of the camp but I think that they were meant for the airfield.
I am not sure of the dates but when we left Reigate we went to Chichester Barracks for some regimental square-bashing – with the band playing – as we marched. We were now fully equipped and ready for our next assignment. Formed into companies and Platoons and I am enclosing some photos which were taken at the time.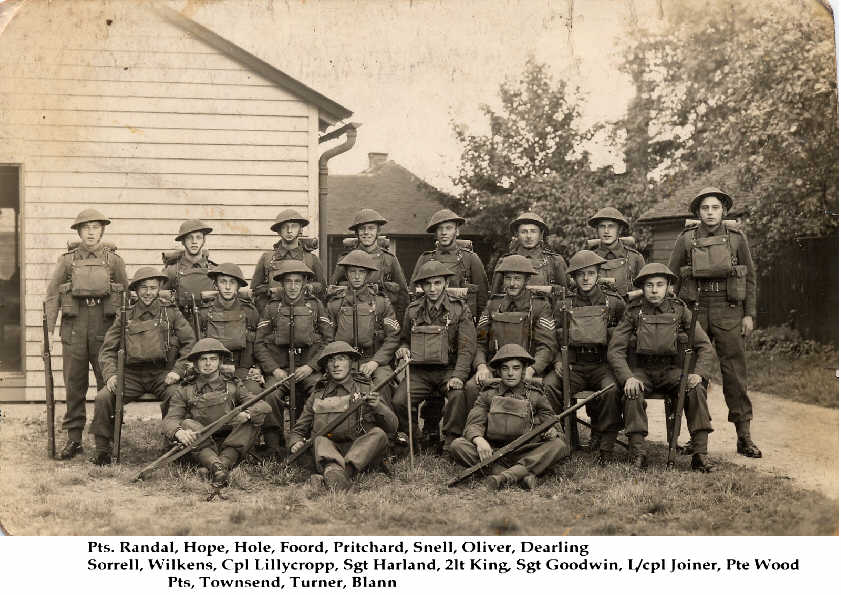 We had a Sgt. Major Quarman who was the most abusive person I have ever met ( he was, supposedly, a former French legionnaire) and didn't take very kindly when being told, at times, by a Sgt Harland of the Queens Rules and regulations when he overstepped the mark. We did not have a barber in the company and I volunteered for this and was sent to Ford Aerodrome (a Naval establishment at that time flying Havoks and Bostons on coastal patrols).
My training was on men who were serving detention sentences and my instructor was only known as "Jock", a rather elderly hairdresser. I received my equipment from the PRI funds and was paid half-a-crown a month from the same fund. It was not uncommon to be asked by men to give them a decent cut when going on leave and giving me sixpence as a tip. They were quite frequently sent back by CSM Quarman as they collected their passes. Apart from my hairdressing I was also doing normal duties Patrolling the Airfield at Tangmere. Bombers such as Blenheims, Wellingtons, Hamdens etc. were landing at the airfield sometimes with heavy casualties after a bombing raid.
We were frequently bombed by Dorniers but I cannot recollect any casualties as we were forbidden to fire on this very low flying planes for fear of giving our positions away. A dawn raid of Stukas gave us a scare whilst on patrol on the airfield but being so young it was considered "exciting". We were later transferred to the West Hampnett airfield and performed our patrols there.
We were known as "C" Company and was commanded by Major Croft who took us out of the airfields for a rest. I think Major Croft (later Lord Croft?) was very friendly with the Duchess of Norfolk at the time and we found ourselves billeted in Arundel Castle where we were destined to "Polish" and "Bumper" the Barons Hall every morning after making our beds up.
From Arundel we were sent to East Sussex and did some intensive battle training on Pevensey Marshes and the surrounding area. This included night manoeuvres and Commando training with live ammunition being fired over our heads (making sure that our heads were down), swimming lessons at Margate and forced marching. On one of the last marches I took part (ABOUT 20 MILES) Montgomery came by standing in his "open- top" car saluting us as he went by – you can imagine the response he got – ( not "He's a jolly good fellow" the words changed to "for he's a F ….g. old B…..d). I was also Platoon first-aider and for route marches my equipment was a needle, woollen thread and a bottle of Iodine. The treatment for blisters was "drawing the iodine- soaked thread through the blister". Painful but effective.
It was probably at this time that our training was over and the Battalion was ready for action and applications were sought for transfer to various other units. I applied, with a Cpl Houghton, for Glider Pilot….he got through and later became an instructor but I didn't. Several applied for the Commandos and Parachute Regiment and several of us were called for an interview for a special job which turned out to be the Royal Signals. I continued with the Signals but several others applied to go back to our their unit.
And so ends my experience with the 70th Battalion of the Royal Sussex Regt.
I continued with the Royal signals in India, Burma, Malaya and Singapore. Demob number 34 came up and I was off home.