The Royal Sussex Living History Group is a small group dedicated to recreating the Royal Sussex Regiment as it would have been in the Victorian period, keeping alive the days of scarlet tunics, buff leather equipment and bell tents.

Victorian period tent line – Pevensey Castle
Formed in 1996, the group is composed of members from varied walks of life. Whilst remaining friendly and informal by nature, members are qualified in firearms instruction, health and safety, basic first-aid, with one member who is a military range-conducting officer, ensuring a high standard is maintained, whether providing an illustrated talk for a local society, or recreating a Victorian tent line for heritage organisations such as English Heritage.
Recreating is the most appropriate description for what the group does, as virtually everything used in the group's 'living history' displays has either to be acquired, or, where that is not possible, created by the group, after much careful research. Where possible original artefacts are used, but much of what is needed, uniform for example, is either too delicate, or too small, it should be remembered that the Victorian soldier was, in the main, somewhat smaller than his twenty-first century equivalent. Within the group is, therefore, a wealth of collective knowledge, about military life, uniform, and equipment of the period, and, like all enthusiasts, the group like nothing more than to pass on that knowledge.
In 1999, at the request of Shoreham RAFA, the group extended its 'living history' to include the Great War, providing a modest encampment to compliment the First World War aircraft display at Shoreham Airshow. The first show was taken on at very short notice. The group had less than a month to put together a WW1 encampment, uniforms, weapons, and equipment. Fortunately much of the tentage used in the Victorian period was still in use in 1914, so at least there was somewhere to sleep. In that first year the group turned out a team of five, who were just about equipped to survive the two days of the airshow, but in the years since then a team of ten has developed, including two VAD nurses, and an array of equipment from a WW1 first aid tin to a Vickers machine gun.
Over the years the group has given talks and 'living history' displays across the south east, for organisations large and small. Members have been involved, to a modest degree, in radio, television, and film work.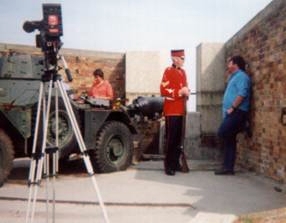 Filming BBC History Quest with Rory McGrath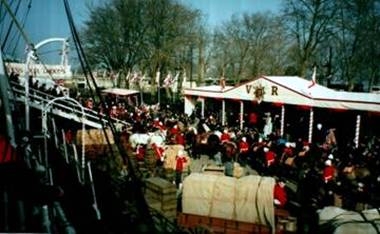 Filming the Paramount picture "The Four Feathers"
The declared aim of the group, which is a non-profit making venture, is to provide an historical education service, thereby:
"Keeping alive the name and history of our County Regiment"