The Gordon Relief Campaign (1884-85)
A first-hand account by the commander of the Talahawiya steamer
by James Baxendale O.B.E. ©
Lionel Trafford deserved more recognition than he got. He is not only a brave and capable solider, but a good comrade…2
"On 27th of January the rescuers came in sight of Khartoum and under the fire of the enemy. Many of their perilous adventures seem to belong to romance rather than to reality. But the scene that appeals to the imagination above all the others is that where with both banks ablaze with musketry and artillery, the black smoke pouring though the shot-holes in the funnels, the water rising in spurts from the bullets, the men who had come so far and braved so much stared at the palace roof and, seeing no flag flying, knew that all was over and that they had come too late."
Introduction
The ill-fated attempt by two steamers to rescue General Gordon in Khartoum has been called by the historian, Jan Morris, 'one of the great moments of the imperial story'.4 A number of books have been written about the Gordon Relief Campaign.5 But only one6 appears to have made any use of the first-hand account by the commander of one of the two steamers that made the final dash to Khartoum, which arrived two days too late to rescue Gordon: namely, that of Captain (later Major) Lionel Trafford of the 35th (Royal Sussex) Regiment.
Lionel, a soldier and an artist, produced two accounts of the campaign. Both are lavishly illustrated with his watercolours. The first version appears to be his original version, which he wrote either contemporaneously, or shortly after, the events happened. They were found at the time of the sale of his house, Hill Court, in 1982, but are incomplete, ending with the steamers about to depart for Khartoum.7 The latter, or 'official', version, is beautifully bound. Lionel gave it to his Regiment in 1892:
Lionel also painted a number of sketches during the campaign, almost certianly contemporaneously, which he kept in an album.9
Early Years
Lionel Trafford was born in Gibraltar on 1 November 1855.10 He was the third of four sons and two daughters. He was from a well-off Herefordshire family, his great grandfather on his maternal side, Benjamin Rawson, having made a considerable fortune in the early years of the nineteenth century, in the production of vitriol in Bradford.
Whilst his three brothers were educated at either Harrow or Bradfield College (and subsequently at Oxford or Cambridge), Lionel went to Wellington College. He left Wellington, aged sixteen, in 1872.12 The reason for leaving at sixteen may well have been related to the severe debts which his eldest brother, Ned, had incurred whilst at Cambridge in 1871-72. His father had had to pay the debts off, leaving him considerably poorer. 13 Ned was partially disinherited and sent off to America in 1874.
However, thanks to the trust left by Benjamin Rawson, Lionel was not left penniless. Indeed, with Ned's partial disinheritance, Lionel was considerably better off, standing to inherit in Ned's place the Lancashire estates (which he finally did on the death of his aunt, Elizabeth Rawson, in 1890).14
As the third son, it was a natural step for Lionel to join the army. His father had been in the army, as had his grandfather, Major General Thomas Samuel Trafford, who had fought in the Peninsular Wars, as well as various other relations. In 1874, his sister, Clare, had married Edward Hopton (later Major-General Sir Edward Hopton), who had fought at the Siege of Sebastapol in the Crimea, and at the Siege of Lucknow in 1858, during the Indian Mutiny.
Lionel initially joined the Nottingham or Royal Sherwood Foresters Militia – in which his wayward brother, Ned, was at that time briefly a Lieutenant – as a Sub-Lieutenant on 11 February 1874.15 He was subsequently promoted to Lieutenant.16
35th (Royal Sussex) Regiment
On 20 November 1875, Lionel was commissioned as a Lieutenant in the 35th (Royal Sussex) Regiment.17 His first posting, on 2 February 1876, was to the West Indies, including Jamaica, where he remained until February 1879.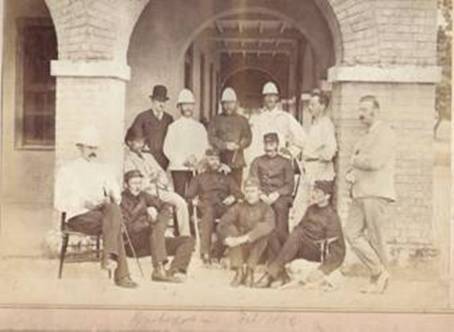 Barbados, February 187618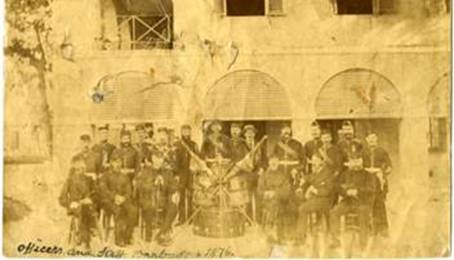 Officers and staff of the Royal Sussex Regiment, Barbados, 187619
On 14 February 1877, his brother, Harry, wrote to Lionel in Newcastle, Jamaica:
His father wrote in a similar vein: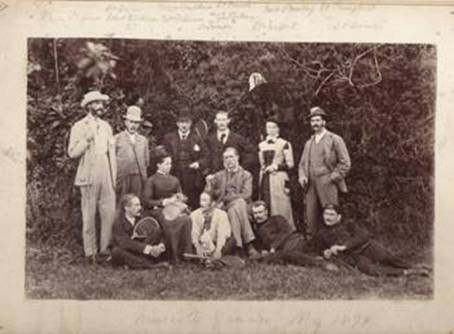 Newcastle, Jamaica, May 1878
Lionel is second from the right, lying down21
From March 1879 to August 1882, Lionel was based in Malta with the 35th Foot.22 Then, on 5 August 1882, he was sent with his Regiment to Egypt to take part in the Egyptian expedition of that year.
Egypt was at that time in the middle of the Arab nationalist uprising against the Khedive, led by Colonel Ahmad Arabi. The second Anglo-Egyptian War had started with the bombardment of Alexandria by the British on 11 July 1882. Lionel landed near Ramleh with the 1st Battalion of the Royal Sussex Regiment in August, but was held up for five weeks by Arabi's forces. Consequently, he did not take part in the decisive battle of Tel el-Kebir on 12 September 1882. For his part in the operations at Ramleh,23 Lionel received a medal and the Khedival Bronze Star.24 The following year, Lionel was promoted to Captain. 25
The Regiment remained in Egypt following the suppression of the uprising, when the country came in effect under Egyptian rule. At some stage – certainly, according to Lionel's diary, by July 1884 – the Regiment was posted to Aswan.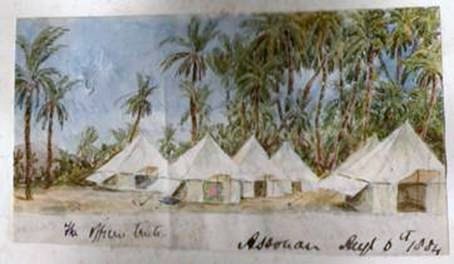 The officer's tents, Aswan, 6 August 1884
The Gordon Relief Campaign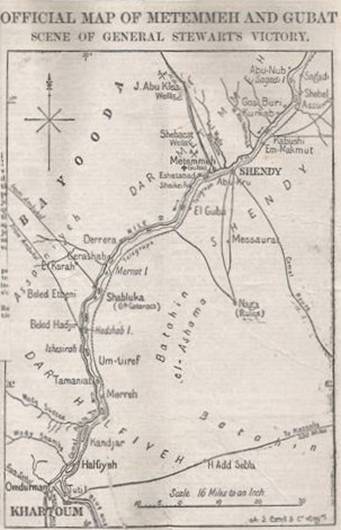 Map of the Gordon Relief Campaign26
Lionel's account of the Gordon Relief Campaign begins on 23 August 1884, when the Regiment moved to Wadi Halfa. Lionel's company, C Company, then moved southwards, reaching Serras (the end of the railway line) on 5 September. Two days later, on 7 September, they set sail down the Nile for Dongala, which they reached on 20 September. They camped at Dongala until 14 December, when they moved to Debbah.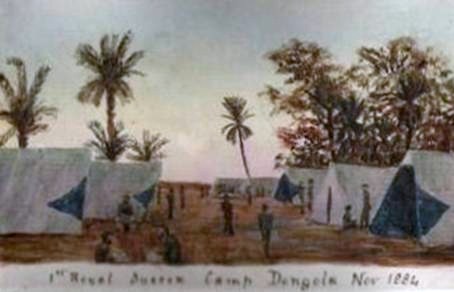 1st Royal Sussex Camp, Dongola, November 1884
On 20 December, they received orders to move to Korti, arriving there on Christmas Day. There they remained until 8 January, when they started their long and arduous march across the Bayuda Desert to Gadkul, arriving there on 12 January.
The march across the Bayuda Desert
Lionel wrote in his diary:
Commenting on the Battle of Abu Klea, Henry Keown-Boyd in A Good Dusting notes:
In Told From the Ranks, published in 1897, Harry Etherington, of the 1st Battalion, Royal Sussex Regiment, provided an equally vivid account of Abu Klea:
Metemmah
Lionel continued in his diary:
Keown-Boyd notes:
To Gordon's rescue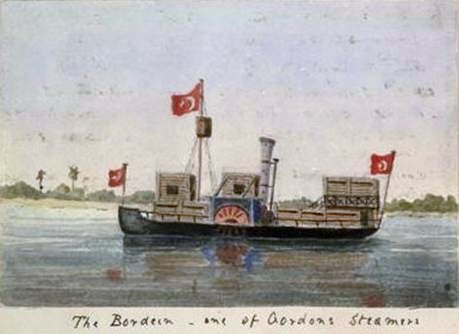 Too late! Too late to save him,
In vain, in vain they tried.
His life was England's glory,
His death was England's pride.32
Lionel continued:
At this stage, Lionel's contemporaneous diary finishes. He continues in his official diary:
Thomas Pakenham in The Scramble for Africa writes:
Keown-Boyd concludes:
Aftermath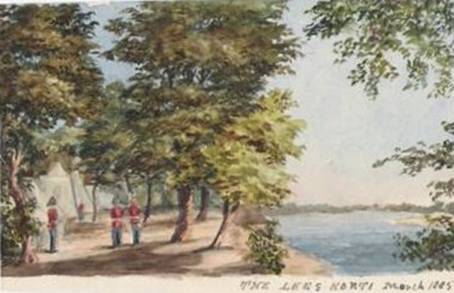 The Legs, Korti, March 1885
The expedition then began its slow retreat, reaching Korti on 10 March and Abu Gus on 24 March, where they remained until 1 June.
Lionel was mentioned in dispatches in August 1885, 42 one of only three officers from the Royal Sussex Regiment, 43 and received the rank of Brevet Major, 44 and two clasps for his efforts. He left Egypt for England on 11 September 1885.
For all its short-comings the Desert Column had done its best and more. It had ridden, marched, dug wells, built forts and zaribas, sweated, thirsted, steamed, fought and, in many cases, died for nothing. The column had lost fourteen officers and one hundred and fifteen men killed in action, twenty-three officers and two hundred and twenty-three men wounded, a number of whom died later (Sir Herbert Stewart had died on the return journey). In addition, perhaps another hundred had died of disease or exhaustion and the health of many must have been permanently impaired leading to premature death.45
By the end of June 1885, a bitter and frustrated Wolseley had left the Sudan, never to return. Gladstone had fallen from office and the Mahdi was dead. The world… lost interest in the Sudan.46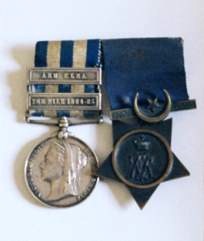 Lionel Trafford's medals47
Life After Sudan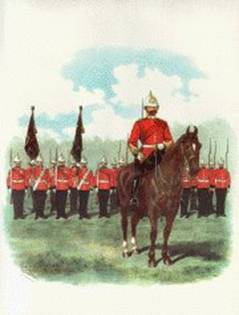 Royal Sussex Regiment by Richard Simkin (c 1888)
Lionel remained with the 35th Foot for another four years, when he was seconded to the 24th Middlesex Rifle Volunteer Corps as its Adjutant.48 On taking up his appointment, the military columns of The Man of the World noted:49
In 1890, on the death of his great aunt, Elizabeth Rawson, Lionel inherited a considerable fortune ('the Lancashire Estates'), much of which he sold, including Benjamin Rawson's residence, Darley Hall.50 With the proceeds, in November 1893, he bought a beautiful Queen Anne house in Herefordshire, Hill Court.51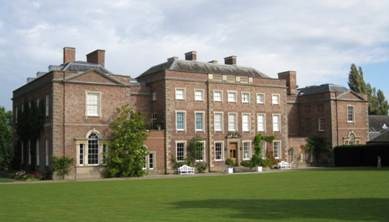 Hill Court
There was now no longer any need to work. In February 1891, he went on retired pay from the Royal Sussex Regiment.52 The following month, on 19 March 1891, he married Amelia Ruth Merton Simmons, an artist and the daughter of Simon Simmons of London.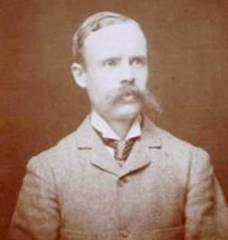 Lionel Trafford
For the remainder of his life, Lionel appears to have lived the life of a country gentleman, concentrating on his life-long love of painting. A number of his paintings were exhibited at the Royal Academy Summer Exhibition.53 Although in May 1899, he was appointed to the 1st Battalion Royal Southern Reserve, the state of his health prevented him from joining.
Lionel died on 20 September 1900 without issue, at the comparatively young age of forty-four, his early death no doubt the latent result of soldiering in unhealthy climates. He was buried with other members of his family in the graveyard of St Michael's, Michaelchurch Escley.
The Somnambulist (1899)
by Lionel Trafford56
Lionel's wife, Ruth, was distraught by his death. Even six months later, found it difficult to reconcile herself to the fact that he was dead. She wrote to her brother-in-law, Guy: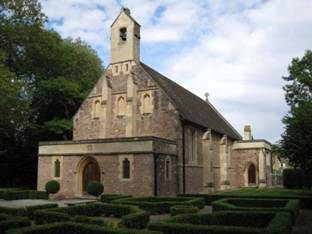 Church of the Paraclete, Hom Green,
built in memory of Lionel Trafford
Ruth built a chapel in Lionel's memory on the Hill Court estate: the Church of the Paraclete at Hom Green, by the well-known architect, George Frederick Bodley, who had been responsible for the new wing of the Trafford family house, Michaelchurch Court, thirty years before. In the chapel, there is the following inscription to Lionel:
---