6411623 Private Ustinov. P 10th Royal Sussex Regiment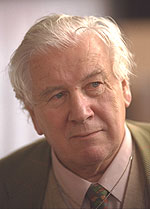 Peter Ustinov, who died on 29th March 2004, would be the first to agree that he was not exactly infantry soldier material; he writes in a humorously disparaging manner about his time, all seven months of it, with the Regiment in 1942. Yet the fact that he remembered and quoted, as above, his army number, battalion and regiment in his biography indicates that like most conscripted soldiers he had a sneaking nostalgia for his time spent with us, and he makes the point that however unpleasant compulsory soldiering may appear there is always a proximity of humour, as the following tale illustrates. He recalled that after being moved from grossly overcrowded accommodation to something more spacious, his Company Sergeant Major greeted him saying "Mornin' U'nov, how's your new billet?" Ustinov replied that it was much less congested, "Sir"; to which his CSM commented 'I know, more room, too'!
We now fast-forward to 1989. Peter was visiting Simon Drummond – Brady's club in Berkeley Square. During discussion Simon mentioned that his father Michael was in the Royal Sussex. P U reacted by inscribing in the Visitors book the greeting reproduced below, complete with Roussillon Plume! So, nostalgia conquers all!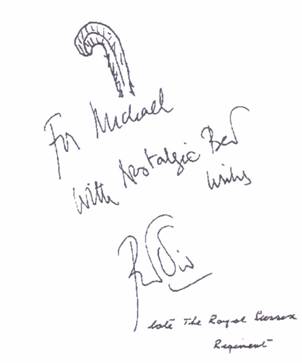 The above is reproduced from The Roussillon Gazette.
Sir Peter Ustinov, an Oscar-winning actor who later earned a reputation for his humanitarian work, died on Monday, March 29, 2004, in Switzerland. He was 82.
Born in London on April 16, 1921, the only son of a Russian artist mother and a journalist father, Peter Ustinov claimed also to have Swiss, Ethiopian, Italian and French blood, everything except English.
He was educated at the prestigious Westminster School, but hated it and left at 16.
During WWII Pte. Peter Ustinov is reported to have been batman to Lt. Col. David Niven.
He appeared in his first revue and had his first stage play presented in London in 1940, when he was 19.
In a career lasting some 60 years, Ustinov appeared in roles ranging from Emperor Nero to Agatha Christie's Belgian detective Hercule Poirot. He won Academy Awards for supporting actor in the films Spartacus and Topkapi in the 1960s.
More recently he was the voice of Babar the Elephant, played the role of a doctor in the film Lorenzo's Oil, and in 1999 appeared as the Walrus to Pete Postlethwaite's Carpenter in a multimillion-dollar TV movie version of Alice in Wonderland.
Ustinov faced criticism in the early 1990s for his controversial views on the emergence of Russia from Communist rule, and for his unstinting support for Mikhail Gorbachev, but his long service as a goodwill ambassador for UNICEF led UN Secretary General Kofi Annan to joke that Ustinov was the man to take over from him.
Awarded the CBE (Commander of the Order of the British Empire) in 1975, he was knighted in 1990, was Chancellor of the University of Durham from 1992, and the Goodwill Ambassador for UNICEF from 1968, until his death in 2004.
Sir Peter's funeral was held at Geneva's historic Cathedral of St Pierre. He was later buried in the village of Bursins, where he had lived in a Chateau since 1971.