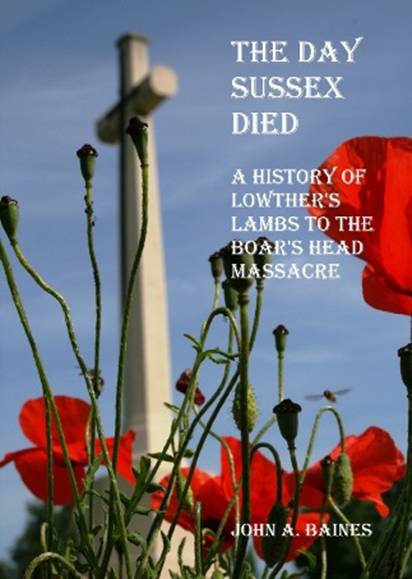 "The Day Sussex Died A History of Lowther's Lambs to the Boar's Head Massacre."
By John A. Baines
As the title implies, this is a history of Lowther's Lambs, the 1st, 2nd and 3rd Southdown Battalions, or officially the 11th, 12th, & 13th Battalions, The Royal Sussex Regiment, from their formation, starting in September 1914, through training, arrival in France in March 1916, to their first major action, The Battle of the Boar's Head, in which they were decimated, the 13th being "all but wiped out".
The book is the result of twelve years research (still ongoing), and was fifteen months in the writing. It is well illustrated throughout with period pictures, maps, line drawings, casualty lists etc, including eight colour pages, whilst the appendices contain many documents, both instructions and reports, directly relating to the events of 30th June, 1916.
The first edition of John's book was published in 2012, just before his passing.

The second edition of John's book was published in 2016, the centenary year.

The Third edition of John's book will be available soon

For further information please contact us