Royal Sussex Regiment from 10th Oct 1911.
By Neil Aldridge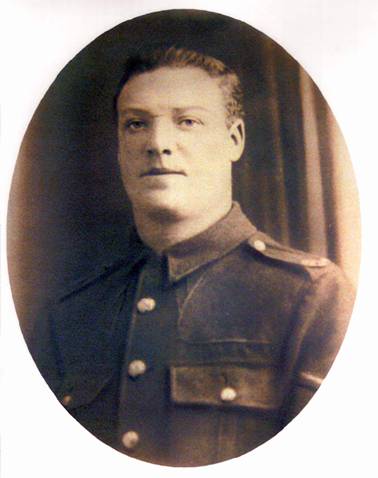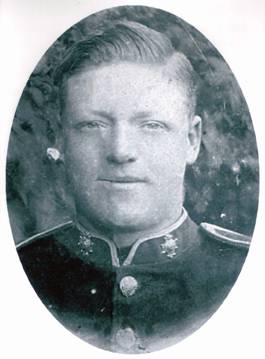 This is the information that I have so far regarding my paternal grandfather.
Alfred George Aldridge was born at 34 Egremont Place St Peters Brighton Sussex on the 9 May 1894.
According to the 1901 Census the family were then living at 44 Crescent Cottages, St Matthew, Brighton. Alfred's father George gave his occupation as a bricklayers labourer. There are six children listed at the property including Alfred who was 6 years old. They moved to Brighton at sometime between 1891 and 1894.
At the start of my research I had just two photographs Alfred in his Royal Sussex regiment army uniform to go on.
Some of his service records I obtained from the 'Burnt Records' at the National Archives at Kew. It was very lucky that they survived as they have helped fill in the gaps. He enlisted on the 10th Oct 1911 when his age is said to be 'apparent age 18 years', he was in fact 17 years and 5 months of age.
He signed up for a period of 7 years. His occupation is given as a laundry porter.
His medical records state that he was 5ft 8ins,blue eyes and brown hair. Scars were present on the back of finger of right hand and there was a scar below his right kneecap.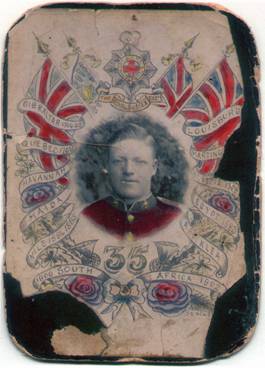 Family tradition informs me that he had fallen out with his family at home and decided to join the army. The rest of the family later (whilst he was in the army?) left Brighton (why is as yet a mystery), eventually settling at Headcorn Kent. They found agricultural work along the way.
He appears to have served with the 3rd Battalion The Royal Sussex Regiment.
In early 1912 he was with the 2nd Battalion at Curragh Camp in Ireland. They returned to Inkermann Barracks, Woking, in Jan 1912, remaining there until August 1914. Pte Aldridge was one of the men from the 2nd Battalion The Royal Sussex Regiment who lined the route from Buckingham Palace to Marlborough Yard on 12th May 1913, on the occasion of the visit of the King of Denmark. The photo shows him to be young,he would have been 19 at the time, compare this with the lance corporal photo, of 1915 or perhaps even later?
In May 1914 the 2nd Battalion took part in a mock battle at Woking1 before King George V and Mr Asquith the then Prime Minister.
I have used a variety of sources to attempt an accurate record of my granddads service in the Royal Sussex. He talked very little about what he did, however my father had a few recollections which have helped, and they have, so far, tied in with the official records.
My dad says: he fell out with the family and joined as a boy of 15, this does not tie in as the year and date on his army record would make him seventeen and a half. He was a machine gunner using a Lewis gun. He went to France, including Mons, Ypres, and the Somme, was wounded twice. Some shrapnel remained in his arm and sometimes bothered him. He would be seen to move it around! He also went to India and Mesopotamia, where he worked with pack mules,(this does not appear to tie up with his still serving in the same Royal Sussex unit?)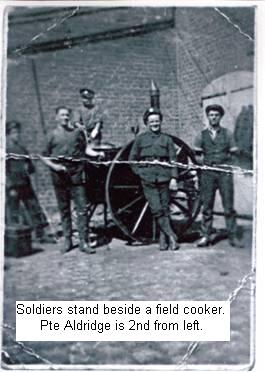 When in France, he was in a house once when the Germans could be heard saying that they would kill the Tommies, he escaped with his mate along a ditch. This last recollection has been recently verified as recounting an incident at Chemin de Dames on the Aisne at Vendresse on 14th September 1914. The War Diary of the 2nd Battalion. describes how the gunners took refuge in a sugar beet factory and later a farmhouse cellar. The detachment remained hidden in a cellar with their machine guns until the Germans, who were in the house above them, had retired for the night!
The service record of my granddad states that on the 20th Sep 1914 he was appointed unpaid Lance Corporal 'in the field'. The 2nd Battalion was at that time located at Paissy in France.
By October 1914 the battalion was at Ypres, when granddad was wounded somewhere near to Polygon Wood, on 30th October. The War Diary describes the fierce engagement which became known as the First Battle of Ypres.
The following is extracted from A History of the Royal Sussex Regiment, 1701-1953 by G. D. Martineau, and gives a good feel for what was happening to the Battalion at this time (Webmaster)
"The 2nd Battalion…….. ……had moved to Ypres in the latter part of October.
"A most interesting town," remarks Private Ernest Wickens, gardener to Conan Doyle and called up as a reservist, " with many grand buildings – we greatly admired it . . . Following our night's stay in the town, we fell in quite easily in the morning and proceeded to the left of Ypres, where we received reinforcements, the King's Royal Rifles and the Northamptons coming up.
These two regiments were soon in action, but we were not engaged, and the same night returned to the town and billeted. The next day we marched about five miles into a very big wood in the vicinity of Ypres, where we remained in the trenches for about a fortnight. We got shelled out of them. The day we were compelled to leave the Germans started pounding us at seven in the morning, and they kept up the music until late in the afternoon. We lost five or six men before we could get out of the wool and take up a fresh position.
Shortly afterwards, word was received that the Prussian Guards had succeeded in breaking through the British lines, and in consequence we were thrown back about two mites.
In retiring, we, like other regiments, go it hot, and I had a most miraculous escape. I did not know at that time what had happened, but when we had breathing space, and I came to examine my canteen and pack, I discovered that I had had five bullets through the canteen and four through my pack. A chap next to me also had an extraordinary escape, for a bullet went right through his hat without touching him. That night we dug ourselves in and waited for the Germans, for we fully expected a night attack. The following morning, our General sent word that we were pretty well surrounded, and so we had 'to yield further ground. We retired until, coming up with reinforcements, we proceeded forward again. We could not, however, regain our lost trenches. The order came that we were to charge the Prussian Guards again that night in order to retake the lost trenches. We formed up about half-past ten, and were told to walk through the wood. We started the charge about 1.30, and, reaching the German lines, there was some terrible fighting. The Germans cannot face the bayonet, and they got a great deal of cold steel in that charge. We practically wiped the Guards out, their casualties were between 700 and 800 killed and wounded, and we had to clear the road of the dead and lay the bodies in the ditches by the roadside before our ammuni
His Active Service form B.103 states that he returned to England on leave on 18/12/1914. The qualification on this form says that he was trained with the machine gun.
He married in 1923 a local girl in Headcorn, and had four children, Sydney, who was to be killed in Normandy on the 10th July 1944, close to Hill 112, in Operation Epson with Somerset Light Infantry, Ronald (my Dad), Violet and Rose.
Alfred George Aldridge died at home on 26th May 1973, his wife had died three years before.
The research continues and I have yet to discover when and why Alfred went to Mesopotamia.