4th, later 12th Battalion
1898 – 1999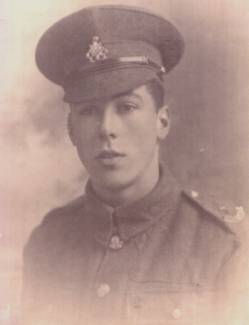 Jack Billet was born in Shoreham-by-Sea, Sussex on 3rd December 1898,
When war was declared Jack was still too young to join up, but, having, one suspects, lied about his age, as did so many, he joined the Royal Sussex Regiment in 1916 (? or earlier, see last paragraph) . Serving first with the 4th Battalion, and later with the 12th and 13th, he took part in actions at Ypres and on the Somme, before being wounded in the neck and on the cheek in 1918, which resulted in his being sent "home to Blighty".
He was treated at St. George's Hospital, Hyde Park Corner, London, and, when he was suitably recovered, was sent for retraining to Newhaven, in Sussex, where he was when the armistice was declared. He did not, therefore, return to the front.
According to his daughter Jack spoke rarely of his experiences, but when he did remembered them as if they were yesterday, a measure of the mark that war must have left on so many.
Jack married in 1920, and worked for forty-five years on the railways, starting as a cleaner with the London Brighton and South Coast Railway, and rising to engine driver. He was the father of three daughters.
After the death of his wife, Rose, in 1980, Jack continued to live alone until he was ninety-seven. He then went to a local rest home, before moving to the Norman Latham nursing home in Southwick.
It was there that, on the occasion of his one hundredth birthday, he was presented with the medal of the French Legion of Honour by Mr Henry Southcote-Want, chairman of Southwick Green Branch of The Royal British Legion.
Sadly Jack passed away only five weeks later, on 8th January 1999.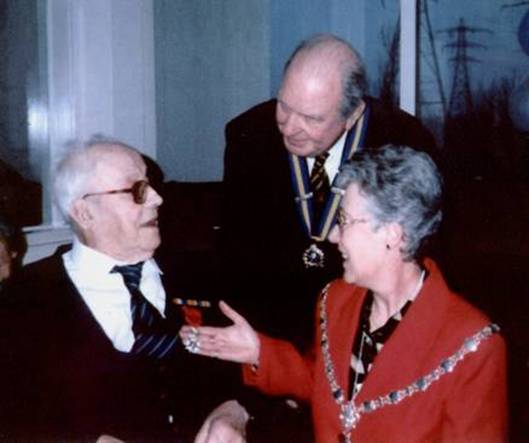 Jack Billett on the occasion of his 100th birthday. Having just been presented with his Legion d'Honneur, Jack chats to Adur District Council Chair Gill Hammond, and Mr Henry Southcote-Want. If you examine closely Jack's medal ribbons, he wears the British War and Victory medals, but also the ribbon for the 1914 or 14/15 Star, indicating that Jack was in fact a very young soldier indeed!