In 2001 the group took part in events throughout Sussex as our way of celebrating the tercentenary of the 35th Regiment of Foot, which was later to become The Royal Sussex Regiment.
In June 2001 at Amberley Museum, near Arundel.
As part of the museum's 'Collectors' Weekend' we put on a display covering the Victorian and Great War periods, including uniform, artefacts, and weapons. Members of the group were dressed in uniforms of the Nile Campaign, the Boer War, and the Great War.
In June/July 2001 at The Military Museum of Sussex, Eastbourne.
The group hosted a multi-period living history weekend, including groups from the English Civil War to WW1. It was really good to be in this, our spiritual home over the weekend of 30th June/1st July. June 30th has particular significance for the Lowther's Lambs, the 11th, 12th, and 13th, Southdowns Battalions of the Royal Sussex Regiment. On that day in 1916 the infamous battle at Richebourg took place. Lasting some four hours the battle had little tactical benefit: 17 officers and 349 men from the Southdowns Battalions were lost, whilst casualties exceeded 1000, representing almost half the strength of the three battalions. As a result of actions on that day an Eastbourne man, CSM Nelson Carter, 4th Company, 12th Battalion, Royal Sussex Regiment, was awarded a posthumous Victoria Cross, and we were honoured to have members of his family with us.
In July 2001 at Pevensey Castle.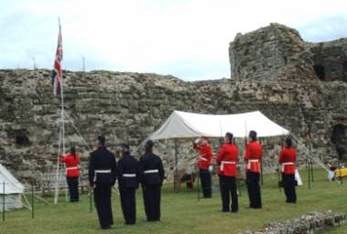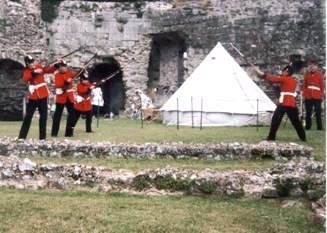 The group staged its own modest reconstruction of a Victorian tent line, with period drill, musketry, and the general camp life of 'Tommy Atkins', plus a signals unit with heliograph, signal lamps and telegraph equipment. Morning parade was held each day followed by a flag raising ceremony, mid day meal was cooked over a camp kitchen.
In September 2001 at Shoreham Airshow.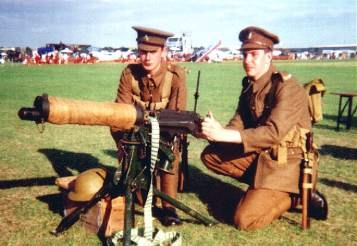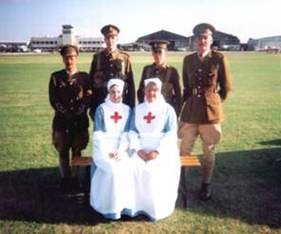 For the third year the group provided a period tent line to compliment, the Great War aircraft display. As in the previous two years we were on the runway, during the WW1 air display, to assist our RFC comrades in their defence of the airfield against the Fokker tri-plane. Following the display, we were the tent line, where we will had our Vickers machine gun, various Lee-Enfield rifles, and many other artefacts for all to see, including the signals unit.
On Sunday, as well as our usual morning parade, including flag raising, we were joined at just a little after noon by the RAFA Standard Bearer, bugler, and Sussex Police Chaplain, for a brief service of remembrance.
Despite the difficulties of holding a minute silence during a busy, and very noisy airshow, it was decided that the 'experiment' would be repeated on Sunday at the next year's show, and has now become an annual event.