2nd Battalion
KIA 14th Sptember 1914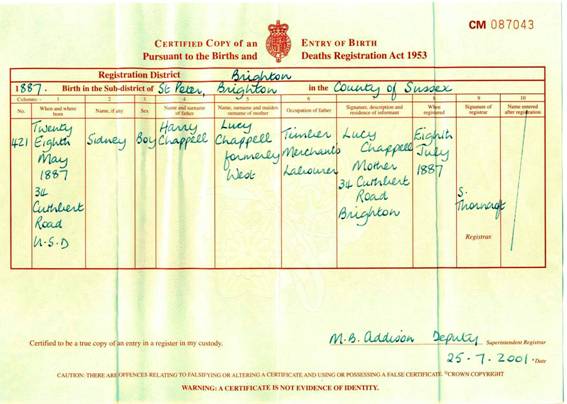 Sydney Chappell was born on the twenty eighth of May 1887, at Brighton. He was the son of Harry Chappell, a timber merchants labourer, and Lucy Chappell (formerly West), of 34 Cuthbert Road, Brighton.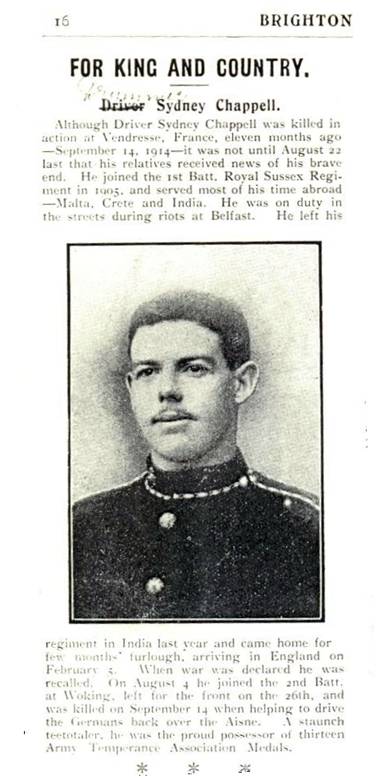 According to his obituary, published in the Brighton and Hove and South Sussex Graphic in September 1915, Sydney "joined the 1st Batt. Royal Sussex Regiment in 1905, and served most of his time abroad – Malta, Crete and India. He was on duty in the streets during the riots at Belfast".
In fact, it is likely that he joined The Royal Sussex in 1904 following the death of his mother. In June of that year the 2nd Batt., which had been at Shornecliffe since its return home from India in November of 1902, embarked for Malta, and the following year moved to Crete.
In 1907 the 2nd Batt. "terminated its stay in Crete, and moved to its new quarters at Belfast for another term of service in Ireland. During its stay in Belfast, the 2nd Battalion had a good deal of unpleasant duty helping the police to quell riots and keeping order during strikes."
The 2nd Battalion moved to the Curragh in 1909, and performed further strike duty in South Wales in 1911.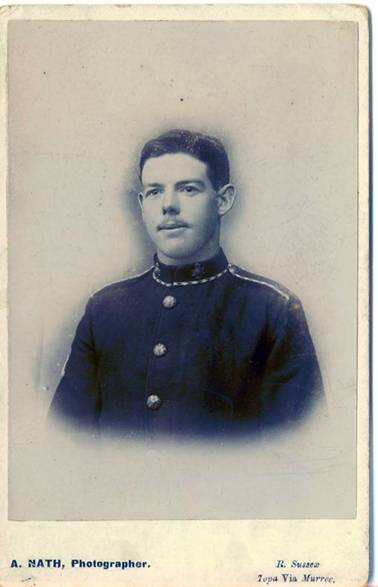 It may have been around this time that Sydney transferred to the 1st Battalion in India, where they had gone in 1902, after seeing service in South Africa during the 2nd Anglo-Boer War.
Sydney returned to England, according to his obituary, on February 5th 1914, "for a few months furlough". It is possible that he had infact transferred to the reserve at that time, being time served, and was not, therefore, due to return to India.
Thus it was that, when War was declared, he was recalled to the Colours, a call which by all accounts was not needed, as Sydney was amongst the first to return voluntarily, and so, on August 4th, he joined the 2nd Batt., at Woking, leaving for the front on the 26th, and was killed on September 14th, when helping to drive the Germans back over the Aisne.
News of his death at Vendresse, France was not confirmed until August 22nd 1915, he was presumably listed as missing prior to that date.
Sydney was "a staunch teetotaller, he was the proud possessor of thirteen Army Temporance Association Medals".
As can be seen from the studio photograph, above, Sydney was stationed near Murree in the Punjab area of India.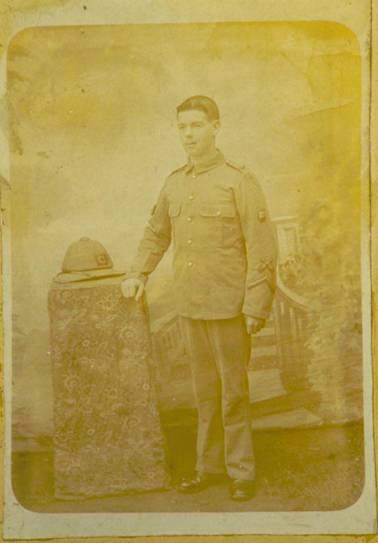 Above is a picture of Sydney in foreign service uniform.

Pte Sydney Chappell is commemorated in the Commonwealth Wargraves Commission Cemetery at Chauny, Aisne, France.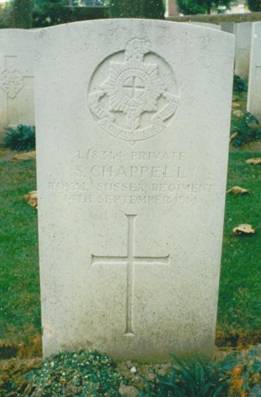 We are most grateful to Sydney Chappell's family for supplying and allowing the use of the pictures above.