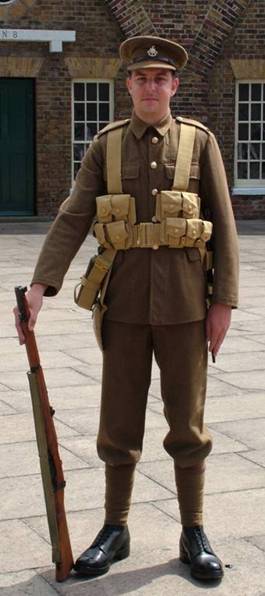 The private wears the khaki serge tunic trousers, worn with knee length khaki wool puttees, and service dress cap with regimental pattern badge.
He carries the 1908 pattern Mills webbing equipment, the shoulder straps supporting two sets of five pouches, one either side of a simple fastener on the wide webbing belt. Suspended from the belt are his bayonet and entrenching tool helve on his left side, enamelled cloth covered water bottle on his right side, and the entrenching tool in it cover at the back. A small pack, and a large pack were carried as necessity, and orders dictated, together with various other items of equipment.
He carries the .303" Short Magazine Lee-Enfield Rifle, and the 1907 pattern bayonet.
Tin helmets were not issued until 1916, together with gas masks, which changed in form duringthe course of the war.