CUINCHY – Guards WINDY CORNER CEMETERY,
Cuinchy, Nord, France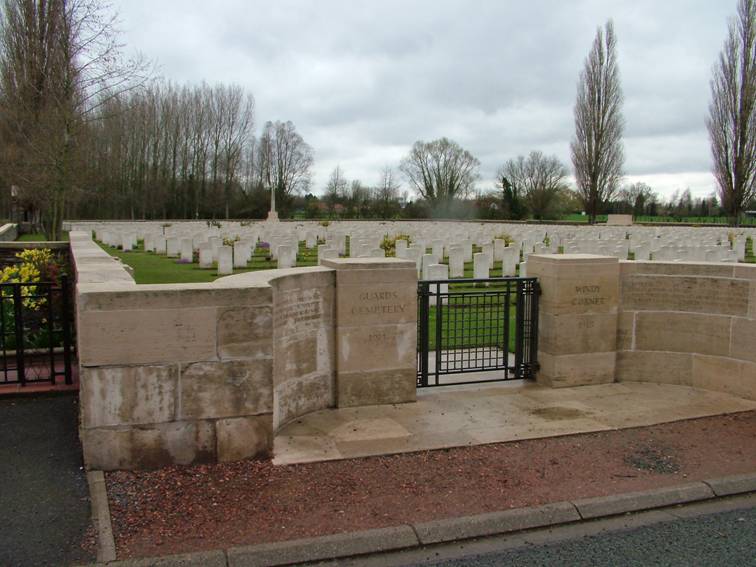 Cuinchy is a village about 7 kms east of the town of Bethune and north of the N41 which runs between Bethune and La Bassee. About 1 km north-west of the village are cross roads known as Windy Corner, and Guards Cemetery is a little west of these cross roads.
A little west of the crossroads known to the army as 'Windy Corner' was a house used as a battalion headquarters and dressing station. The cemetery grew up beside this house. The original cemetery is now Plots I and II and Rows A to S of Plot III. It was begun by the 2nd Division in January 1915, and used extensively by the 4th (Guards) Brigade in and after February. It was closed at the end of May 1916, when it contained 681 graves. After the Armistice it was increased when more than 2,700 graves were brought in from the neighbouring battlefields – in particular the battlefields of Neuve-Chapelle, the Aubers Ridge and Festubert – and from small cemeteries. Guards Cemetery now contains 3,443 burials and commemorations of the First World War. 2,197 of the burials are unidentified but there are special memorials to 36 casualties known or believed to be buried among them. Other special memorials commemorate six casualties buried in Indian Village North Cemetery, whose graves were destroyed by shell fire, and five Indian soldiers originally buried in the Guards Cemetery but afterwards cremated in accordance with the requirements of their faith. The cemetery was designed by Charles Holden.
No. of Identified Casualties: 1246
Courtesy of the Commonwealth Wargraves Commission
Name
Rank & Number
Battalion
Age
Died
Grave Ref
Cemetery
Notes

WWI

William Richard COOPER
L/Cpl SD/3080
13th Bn.
21
30/06/1916 KIA
VII. G. 20
GUARDS CEMETERY, WINDY CORNER, CUINCHY

Born: Hove Enlisted: Hove Son of Arthur and Esther Cooper, of 54, Rutland Rd., Hove, Sussex.

Albert James STREET
L/Cpl SD/4106
13th Bn.
30/06/1916
VIII. B. 7.
GUARDS CEMETERY, WINDY CORNER, CUINCHY

Born: Worthing Enlisted: Worthing

Leonard BEATON
Private SD/1938
12th Bn.
30/06/1916 KIA
VI. J. 6.
GUARDS CEMETERY, WINDY CORNER, CUINCHY

Born: All Souls, Sussex Enlisted: Eastbourne

George BRADFORD
Private SD/1267
12th Bn.
23
30/06/1916 KIA
VI. G. 33.
GUARDS CEMETERY, WINDY CORNER, CUINCHY

Son of Alfred and Constance Rebecca Bradford, of 70, Beach Road, Eastbourne.
Born: Christchurch, Sussex Enlisted: Eastbourne

George JOHNSON
Private SD/4030
13th Bn.
21
30/06/1916 KIA
VI. J. 34.
GUARDS CEMETERY, WINDY CORNER, CUINCHY

Son of George and Harriett Johnson, of 35, Park St., Horsham, Sussex.
Born: Billingshurst, Sussex Enlisted: Hastings

Alexander George MEWETT
Private SD/1407
12th Bn.
21
30/06/1916 KIA
IX. B. 33.
GUARDS CEMETERY, WINDY CORNER, CUINCHY

Born: Wannock,Sussex Enlisted: Eastbourne