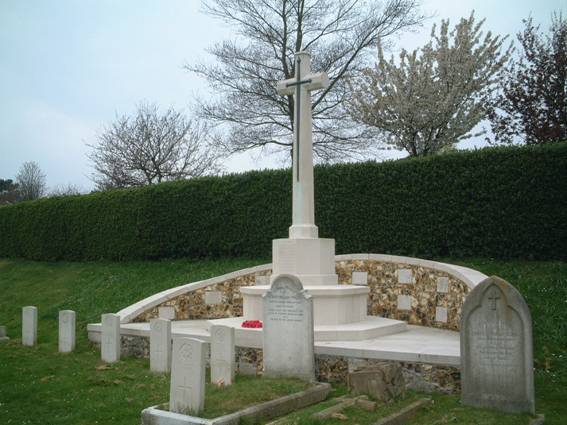 Name
Rank & Number
Battalion
Age
Died
Grave Ref
Cemetery
Notes

WWI

Kenneth Coldwell BRIGHT
2nd Lieut
2nd Bn. attd. 9th Bn.
18/08/1916
Pier and Face 7 C.
THIEPVAL MEMORIAL
HOVE OLD CEMETERY

Medal information Card shows 2nd Lieut. Kenneth Coldwin BRIGHT had previously served as G/701 Cpl & L/Sjt The Royal Sussex Regiment

James William BROOK
Pte G/14305
3rd Bn.
29/11/1916 at home
E. 135.
HOVE OLD CEMETERY

Husband of Lilian Brook, of 36, Essex Rd., Kemp Town, Brighton.
Born Withington, Sussex.
Enlisted Chichester

George BURCHELL
Pte G/959
7th Bn.
22
10/11/1916
E. 136.
HOVE OLD CEMETERY

Son of Mr. and Mrs. Burchell, of 45, Wordsworth St., Hove.

Bernard Norris BUTCHER MC DCM
CSM 6391201
2nd Bn.
32
16/08/1921
E. 183.
HOVE OLD CEMETERY

Husband of A. L. Butcher, of Battle of Trafalgar Hotel, Portslade.
Born Hove

1st July 1915 – D.C.M Citation No 8881 A/C.S.M B.N. Butcher
"For conspicuous gallantry on the 29th January,1915 at Cuinchy. During an attack on the Keep, he, while under heavy machine-gun fure, bombed the enemy, and was largely instrumental in defeating the attack. He has, on many occasions throughout the campaign rendered valuable service and has invariably shown great courage, resource, and devotion to duty."

27th September 1916 – M.C. Citation No. 8881 C.S.M Bernard Norris Butcher
"For conspicuous and consistent gallantry and good work. On one occasion, after all his officers had become casualties, he kept his company together, so that it rendered fine service later in the day. On another, when the battalion had suffered severely, his energy and cheery pluck were invaluable."


Harold COLBOURNE
Pte 2362
3rd/1st Sussex Yeomanry
18
11/05/1916 of pneumonia
D. E. 185.
HOVE OLD CEMETERY

Son of Henry and Grace Colbourne, of 12, Raphael Rd., Hove.

Percy William GEORGE
Cpl G/25694
1st/4th Bn.
29
07/02/1919 of pneumonia
E. 156.
HOVE OLD CEMETERY

Born Hove
Son of Charles and Jane George; husband of Ellen George, of 102, Coleridge St., Hove.

Frank Beckett HILLAM
L/Cpl 20362
2nd/4th Bn.
16/08/1917
E. 124.
HOVE OLD CEMETERY
C OCKENDEN
Pte G/12209
"D" Coy. 9th Bn.
35
31/01/1921 of phthisis.
E. 179.
HOVE OLD CEMETERY

Son of Harry and Alice Ockenden; husband of Daisy Ockenden, of 24, Lennox Rd., Hove.
Born Hove

Albert Gordon PHILLIPS
Pte SD/3184
13th Bn.
18
30/06/1916.
Memorial Reference Panel 69 to 73. LOOS MEMORIAL
HOVE OLD CEMETERY

Son of Albert and Cicely Jane Phillips, of 22, Stoneham Rd., Hove.

Sydney Nelson PHILLIPS
Pte G/3915
10th Bn.
22/06/1916.
E. 138.
HOVE OLD CEMETERY
Victor RICHARDSON MC
Lieutenant
4th Bn.
22
09/06/1917 of wounds
H. A. 56.
HOVE OLD CEMETERY

Son of Frank Victor Richardson and Emily Caroline Richardson, of 15, Cambridge Rd., Hove.

19th June 1917 M.C. Citation
"For conspicuous gallantry and devotion to duty. Although severely wounded he continued to lead his men forward in the face of very heavy hostile fire. He was again wounded."

Victor Richardson (right) is seen here photographed with close friends Edward Brittain (left) and Roland Leighton possibly whilst with the OTC at Uppingham School, Uppingham, Rutland.

Edward Brittain was the brother of VAD Vera Brittain (author of "Testament of Youth" and several other books). Vera met Leighton in 1914, they fell in love, and became engaged. Leighton had been expected home on leave just after Christmas 1915. He died on 23rd December of gunshot wounds to the stomach, received during a night-time wire inspection a day earlier. He was 20 years of age.

Vera Brittain wrote about the loss of Leighton, in a moving account, probably typical of the feelings of so many young women of her generation.

When war broke out the Brittain family had been living in Buxton and Edward sought a commission in the county regiment. He joined the Sherwood Foresters in France, was wounded on the first day of the Somme, and awarded the MC. Edward Brittain was killed on June 15th 1918, aged 22.

Attempts are presently being made to have the grave restored.

War time correspondence between Vera Brittain, Edward, Roland, Victor, and a fourth chum Geoffrey Thurlow, are published as:

Letters From A Lost Generation – First World War Letters of Vera Brittain and Four Friends
M BOSTRIDGE AND A BISHOP
ISBN: 0-316-64664-4 Hardback 427 pp £18.99
Published by Little, Brown.

Our Thanks to Terry Worledge for the photographs of Victor Richardson's grave.

Alan Bernard SANDERS
Pte G/15961
3rd Bn.
24/01/1917 at home
E. 130.
HOVE OLD CEMETERY

Born Deal,Kent
Enlisted Brighton

Albert SHEPPERD
Pte G/913
(TF/913 Soldiers Died)
1st/6th (Cyclist) Bn.
21
06/02/1915 at home
E. 141.
HOVE OLD CEMETERY

Son of Mrs. H. Shepperd, of 22, Church Lane, Ashington, Pulborough, Sussex.
Born Storrington, Surrey (?)
Enlisted Brighton

Harry STEVENS
Cpl 241873
2nd/6th Bn. Royal Warwickshire Regiment
22
19/07/1916
Memorial Reference: Panel 22 to 25.
LOOS MEMORIAL
HOVE OLD CEMETERY

Son of Edward George and M. K. Stevens, of 145, Sackville Rd., Hove, Brighton.

This stone shows Harry Stevens as Royal Sussex Regiment, attached Royal Warwickshire Regiment.

B J WAKEFIELD (from Gravestone)
Pte 20416 (Pte 78035 29th Bn.Middlesex Regiment)
Secondary Regiment Labour Corps transf. to (149888) 301st Coy.
52
10/03/1918
E. 120
HOVE OLD CEMETERY

Volunteer Long Service Medal. Son of Benjaman and Helena Wakefield, of Hove; husband of Mary A. Wakefield, of 87, Montgomery St., Hove.

George Frederick Victor WASHER
L/Cpl 3720
7th Bn.
20
03/07/1918
C. 12. HARPONVILLE COMMUNAL CEMETERY EXTENSION
HOVE OLD CEMETERY

Son of William and Elizabeth Washer, of 26, Cowper St., Hove, Sussex.

According to this stone L/Cpl Washer was buried at Bouzincourt N. W. of Albert

Charles Stanley YOUNG
Pte 6/330
1st/6th (Cyclist) Bn.
20
14/09/1915
E. 140.
HOVE OLD CEMETERY

Born Hove
Enlisted Brighton

WWII

Harry John HARRISON
Pte 14179054
1st Bn.
19
14/05/1947
Block 1. Grave 41.
HOVE NEW CEMETERY

Son of Harry William and Alice Harrison.