5th November 1887 – 13th November 1914
Early Life 1887-1906
Edwin was born on 5th November, 1887 in Catsfield, East Sussex 1. He was the seventh child and the third and last son of James and Charlotte WAITE (nee ELPHICK).
By the end of the Great War, all three sons of James and Charlotte had died, one in childhood and two killed in action 2.
In October 1891 he entered Catsfield Village School and left about 1900. The 1901 Census shows him still living in Catsfield and a Carter's Boy on a farm.3 By 1906 when he enlisted in the Regular Army, he was an upholsterer 4.
Joining the Regular Army 1906
When he joined the Regular Army on 29th June 1906, aged 19, he was already serving as a part-time soldier in the 1st Sussex (Volunteer) Royal Engineers5. This battalion was based in Eastbourne 6 and it is not known whether there were more local companies in the Bexhill and Hastings areas. If not, then Edwin probably lived and worked in Eastbourne. However, he enlisted in Hastings. Apparently he received a 'Notice' (given to him by a Sargeant Major G King) but it is not known what this 'Notice' said. Quite possibly, it referred to the terms of his service – 3 years with the Colours, and 9 years in the Reserve. On the form, Edwin stated that he wished to serve in the Royal Regiment of Artillery (Royal Horse or Royal Field Regiments)7. He was signed on as a Gunner. However, on the following day in Chichester, he was transferred as a Private with the number 8495 to the Royal Sussex Regiment. His terms of service were changed to 9 years with the Colours and 3 years with the Reserve8.
His enlistment papers show Edwin to have been 5'7½'' tall, weighing 144 lbs (which had increased to 158 lbs. after 6 months), with a fresh complexion, blue eyes and brown hair9.
Army Service 1906-1913
After enlisting in Hastings on 29th June 1906, he went to the headquarters of the Royal Sussex Regiment in Chichester. He remained there, presumably for basic training, until 15th December when he went to Dover. On 16th February 1907 he was posted to the 1st Battalion in Rawalpindi, India. 10 11 With occasional postings elsewhere, he served in Rawalpindi until February 1913. He returned to Britain and was transferred to the Reserve on 6th March 1913 12.
Whilst in India, he was a Company Cook for 18 months13, and passed a class of instruction on Big Gun Drill on 6th May 1911. His musketry classification was 2nd class 14. He also acquired a tattoo on his right forearm of a snake encircling a tree 15.
Between 1907 and 1910, he spent a total of 88 days in hospital with various ailments – ague, dispepsia (connected to tachycardia), rheumatism (also with tachycardia and a lung problem), and a wounded left toe! 16.
His Regimental Defaulter Sheet and the Squadron, Troop, Battery and Company Sheet make interesting reading. On 7th March 1908 he was drunk and creating a disturbance in the Bungalow about 2.15 pm and then resisted his escort. He was awarded 7 days confined to barracks. On 18th March 1910 at Rawalpindi he disobeyed an order and was given 96 hours detention. At Gharial on 8th September 1912 he was drunk in barracks, used obscene and threatening language to a Sgt Cramp, attempted to strike Sgt Cramp, and used obscene language in the guard detention room. He was detained for 14 days, fined two shillings and sixpence, and forfeited one good conduct badge 1718. Nonetheless, although he had no Good Conduct badges on his transfer to the Reserve [in 1913], his conduct whilst with the Colours is described as 'Very Good'19.
Service in the Great War
Edwin was mobilised on 5th August 1914 and posted the same day to the 2nd Battalion of the Royal Sussex Regiment. On 12th August he was posted to the British Expeditionary Force 20
The B.E.F sailed to France from 12/8/1914 for 5 days, the peak days being 15th, 16th, and 17th August. Southampton was the embarkation port for personnel.
"A khaki-coloured tide flowed out over the docksides of disembarkation, into the camps, and out of them again along the roads of the Pas-de-Calais and Picardy towards the first concentration area around Amiens. Everywhere the British Army received a rapturous welcome from the French population." 21
The Royal Sussex Regiment disembarked in Rouen22,
"having sailed right up the Seine. The last stretch of the journey was a triumphal progress. People lined the river banks, covered every hillside, clung to precarious vantage points on cliffs and promontories. Flotillas of rowing boats struggled to keep pace with the troopships and bombarded the Tommies on their decks with friendly fusillades of fruit and flowers. The troops were mobbed on disembarkation.
'Buttons and cap badges were, as always, in demand and it was this that indirectly caused the trouble. The Sussex were proud of their cap badge. They were proud of the history of their regiment and they were well aware that the Roussillon plume on their insignia was a symbol of victory. It dated from Quebec where, as the old 35th Foot, the Regiment had soundly beaten the French. The Roussillon Regiment had faced them in the line and, elated with success, the victors had snatched the furled plumes from enemy hats and worn them gloatingly in their own. There was not a man in the 2nd Battalion who did not know the story and, in the very act of handing over their cap badges in the cause of Franco-British friendship, many soldiers managed to communicate a graphic version to the French, curious to know why this familiar Gallic device should adorn the badges of their Anglo-Saxon allies. Despite the language difficulty, the message came across loud and clear and the French did not take it well. There was almost a riot.'

Next morning, Colonel Montresor, considerably put out, paraded the Battalion a company at a time to read them a lecture and to point out the necessity of tact. He suggested that in the circumstances it would be better to say, if asked, that the French had freely given the plume in recognition of the regiment's bravery at Quebec. There was no further trouble, but when onward movement orders were received, the Colonel and his officers were distinctly relieved.' [Lyn MacDonald – 1914 – The Days of Hope – Penguin 1987]
'The Royal Sussex reached the edge of the battle zone at Mons in an acute state of exhaustion. The Roussillon plume stood as proudly as ever on their badges and buttons but their owners were definitely wilting. They had had no rest but cat naps since they had left Rouen, packed into a train that travelled by day at little more than walking pace, stopping at nights at railway yards where the incessant shunting of trains and the penetrating sound of the guards' trumpets made sound sleep impossible. Three days' march on French cobblestones had finally brought them to their destination a mile or so south of Mons on the eve of the battle. Crammed into the barns where they were to billet for the night the Battalion collapsed on the straw as one man and slept the sleep of the dead. On Sunday morning they were roused by the sound of church bells.'
Sgt. F.M. Packham, No 10134, 2nd Bttn., Royal Sussex Regt., 2nd Brigade, 1st Division, B.E.F. recorded that:
'After breakfast we were watching the local families going to church when we heard the sound of galloping horses coming towards us. As they approached we saw that it was a battery of sixty-pounders rushing up the hill. After about five minutes we heard the sound of the guns firing. Well! We had set off running up the hill. When we got to the top we were just in time to see our guns fire in anger for the first time. We could see the shells bursting far ahead and almost at once we heard in the distance the sound that we were to dread for the next four years – the sound of guns firing at us from behind the German lines. We could see their shells bursting just in front of our guns, and there was a rushing noise, like an express train tearing towards us. We soon learned that when you heard that sound the shell had already burst or that it had found its target and it was too late to duck, but we were green then! By this time our officers had arrived to round us up. They ordered us back to billets to 'stand to' at once and to be prepared to move at any time.

That day it was 3rd August [??], and it was a day of frustration and disappointment. We did nothing but march from one place to another and everywhere we went we could hear rifle and artillery fire from all directions, but we saw no signs of the of the enemy. Late in the afternoon we were ordered to dig a trench at the back of a row of houses and dig it deep! They told us we would be there all night and that we could expect the Germans to attack any time. We completed the trench, we posted sentries, and then – just as we'd been told to make ourselves comfortable – up came the Royal Munster Regiment to relieve us! So there was nothing for it but to scramble out and start marching back to the rear again. We went into billets for what was left of the night. We didn't know what was happening.'
'What was happening was that the new line was having to be given up. It was a matter of hours since Sir John French had given the instructions that had set the men digging for all they were worth. I will stand the attack on the line now occupied by the troops. You will therefore strengthen your position by every possible means during the night. Every possible means meant that battalions already weary with marching must rouse themselves and take to the road again to reinforce positions that were thinly held. Every possible means meant building barriers across roadways, stretching tripwires through copses, posting look-outs, doubling sentries. Every possible means meant that every man must remain awake and vigilant. Every possible means meant dig, dig, dig.' [MacDonald]
Edwin was wounded in the Battle of Mons23 but recovered sufficiently to take his part in the other great battle which avenged it (the first battle around Ypres). His Battalion (still as part of 1st Division) were moved to the defence of Ypres in late October 1914. After a brief period in reserve, the Battalion moved on 7th November to action at Klein Zillebeke. They were relieved two days later on 9th November and again went to the reserve line. Guards Brigade. On 13th November, Edwin was again wounded, and was being carried to safety by a French soldier when they were both shot by a German sniper, both being killed. [Report of Frances Elizabeth NICHOLS (nee WAITE) to Bexhill Chronicle 1/5/1915].
Headline 'Killed in Action' Sidley Soldier's Death. [photo] Private E. Waite. News reached Mr and Mrs J Waite of 15, North Road, Sidley, a few days ago that their son, Private E. Waite, Royal Sussex Regiment, was killed in action on November 13th at the Battle of Ypres. With the sad news came the following message from Lord Kitchener:- "The King commands me to assure you of the true sympathy of His Majesty and the Queen in your sorrow." The dead hero was 27 years of age. He had previously been wounded in the retreat from Mons, in consequence of which, he spent a month at the base hospital in France. Having regained his health and strength, Private Waite was sent back to the fighting line, and after only one day's fighting, met his death. The sympathy of all Bexhillians will go out to Mr and Mrs Waite in their sorrow'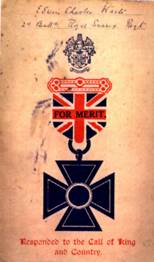 In the Battle of Mons, the 2nd Battalian, Royal Sussex Regiment was part of the 2nd Brigade of the 1st Division of the I Corps. The General Officer Commanding I Corps was Lt gen Sir D Haig, KCB, KCIE, KCVO, ADC-Gen. On 23rd August, 1914, I Corps was located between Mons and Grand Reng [Terraine].
'Of the 90,000 men who had landed in France, one in every six had become a casualty [about 15,000 men].' Most of the Hospital Units had not unpacked and dealing with great number of wounded during a retreat posed many problems. Also, the nature of the wounds (gas gangrene – nothing to do with later gassing) posed problems not met with before (South Africa). [MacDonald, Lyn: The Roses of No Man's Land (1980).
The 1st Battle of Ypres took place between 12/10/1914 and 17/11/1914. [Holding]. The casualties at this battle were even greater than at Mons. [MacDonald].
He [Edwin] died on 13/11/1914 aged 27, his grave untraceable. He is commemorated by name on the Ypres (Menin Gate) Memorial, Belgium. The Royal Sussex Regiment is listed on Panel 20 of the memorial [War Graves Commission]. I suspect that either after he was wounded, his body was blown to bits by the shells or, more likely, that the number of deaths were so great in an area of great confusion that the dead were hastily buried in communal graves. [DLN 29/10/98]
His name also appears on the Bexhill War memorial and also the memorial plaque on St Mary Magdelene's Church
Bexhill Observer 12/12/1914 – 'The death at the Front of Private Waite of Sidley, brings the number of Sidley casualties to five – two killed and three wounded.'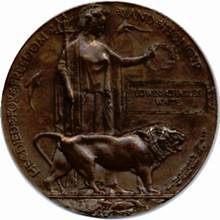 He is mentioned in the section 'The Glorious Dead' following the 'Gallery of Patriots, Bexhill men who are serving their King and Country' in the Bexhill Observer 23/1/1915, 13/2/1915.
Footnotes